Ronald Hamilton will spend the rest of his life in prison for the 2016 murders of his wife, Crystal Howard Hamilton, and rookie Prince William police officer Ashley Guindon, as well as the injury of two other officers.
But that night began with Crystal's domestic violence call to 911, and Ronald Hamilton's 2018 trial revealed a history of abuse in the relationship.
Crystal's sister, Wendy Howard, told InsideNoVa recently that she still hurts because she felt protective of her little sister. 
"He knew her family would be there at her rescue," Howard said of Ronald Hamilton. "He knew this very well." 
A resident of Wilmington, N.C., Howard frequently talked to Crystal, but she didn't know about the abuse.
"Occasionally, we'd talk about careers and catch up," Howard said, noting their last call was a few weeks before the murders. "She never mentioned anything out of the ordinary. I never thought that was the last conversation we'd have." 
The last time Crystal's mother tried to see her daughter and her family in 2015, Ronald Hamilton forbid her from visiting, Howard said. He "threatened her, saying, 'I don't want you to be back to my home.'"
Howard said now she realizes that Ronald Hamilton was isolating her sister from her family, because they could have helped her. "Crystal, being the person that she was, was trying to hold her family together the best way she could, and he took advantage of that."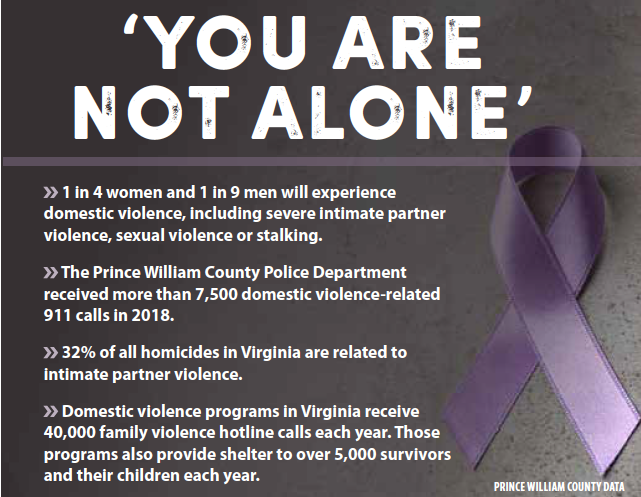 'DO THINGS SAFELY'
Abusers can make victims of domestic violence feel isolated, damage their self-esteem and use a variety of methods to control them. 
Local first-responders, prosecutors and counselors work together year-round to support victims of domestic violence from the moment they reach out for help until long after they've left a dangerous situation. Their efforts are given a national spotlight each October for Domestic Violence Awareness Month.
Domestic violence is a pattern of abusive behaviors used by one person to assert power or maintain control over another in the context of an intimate or family relationship, according to the Virginia Department of Criminal Justice Services. Behavior toward a victim can be physically, sexually or emotionally abusive. Abuse can include threats, intimidation and economic deprivation. 
ACTS, a Dumfries-based nonprofit, offers free counseling and other services for victims of domestic violence in Prince William County, Manassas and Manassas Park. 
ACTS also provides an 18-bed shelter, court advocacy and accompaniment, crisis counseling, safety planning and support groups, a 24-hour hotline, groups for court-ordered men and women, services for Spanish-speaking victims and educational outreach and training for community partners. ACTS can also refer people to therapy or other resources.
Dotty Larson, the nonprofit's domestic violence services director, has worked with victims for 33 years, including 11 years with ACTS. She said domestic violence is one of the most reported crimes in Prince William. On average, it takes a victim seven attempts to leave an abuser, she said. 
Safety planning is vital, Larson said, adding that the nonprofit helps people think through their situation — but doesn't tell them what to do.
"We treat people like adults," she said. "People are afraid of getting killed if they come forward. We urge them to do things safely." 
The nonprofit trained 9,000 people in 2018. Larson tells trainees that they should not suggest a victim leave if they're not ready, because leaving an abuser is dangerous and comes with an increased risk of violence, including murder. 
The nonprofit's batterers intervention program provides court-ordered counseling services to teach about healthy relationships, Larson said. 
Emotional abuse can make victims feel like their behavior caused the violence they're experiencing. If victims receive help, they can understand that the abuse is not their fault, Larson said. Children who witness domestic violence can experience headaches and stomachaches, have difficulty concentrating, and have trouble with relationships as an adult, Larson said. 
MORE THAN A PAMPHLET
The Prince William County Police Department partnered with ACTS in June 2018 to develop a tool called the lethality assessment protocol. An officer responding to a domestic violence report asks the victim a series of questions to determine whether the victim is at a high risk of serious injury or death if he or she is attacked again.
If the assessment suggests another attack is possible, the victim is connected immediately by phone to ACTS, said Sgt. Jonathan Perok, the police department's spokesman.  
"The police department started using this program as a way to gauge the risk of victims and get them the access to resources quickly," he said.
Over the 16 months since the program began, officers have completed 845 lethality assessments, Perok said. Of those cases, ACTS logged more than 200 victim calls.
"We call ACTS right then," Perok said. "It's not just leaving a pamphlet." 
Domestic violence situations can be volatile, which can be dangerous for the victim and responding police officers, said Capt. Shana Hrubes, deputy commander for the criminal investigations division. 
This initial assessment by officers considers the couple's relationship history, including whether the abuser has made threats, Hrubes said. If a child is a victim of domestic violence, the state's Child Protective Services are involved. 
Larson said partnering with police for the assessment protocol is a radical change. The nonprofit's staff and volunteers ask the victim over the phone if he or she feels safe. If they don't and don't have somewhere safe to go, ACTS recommends they get a hotel room or recommends the nonprofit's shelter. ACTS staff follow up with the victim the next day to ask them if they still feel safe and informs them about their free resources and support. 
If the person wants to leave their abuser, ACTS staff and volunteers work through how they can do so safely. Steps might include giving a trusted friend or neighbor important documents, including immigration paperwork and a change of clothes, Larson said.
COURTROOM SUPPORT
ACTS helps victims regardless of whether they're filing criminal charges against their abuser. Staff and volunteers can accompany victims to court if requested. 
If the abuser is being criminally prosecuted, domestic violence victims will also receive support from the victim/witness assistance program with the Prince William Commonwealth's Attorney's Office. The office created the program in 1989 to inform and support the victims of all crimes and their families after charges have been placed and throughout court proceedings.
Tammie Thomas, the director of the assistance program, said anyone can be affected by domestic violence. Thomas and staff provided services to 2,100 people from July 1 through Sept. 30, she said, adding about half of those cases involved domestic violence and services can be as simple as providing information over the phone.
The program helps all crime victims by answering questions regarding their role as a witness, escorting them to and from the court, explaining court procedures, speaking to the victim's employer about being a witness, preparing an impact statement, providing referrals to social service agencies, and providing information about possible financial assistance to help cover uninsured medical and funeral expenses.
Giné Ryan, a case manager for the victim/witness assistance program, said it's important for victims to have a safety plan, because an abuser can become compliant or can act out. Ryan recommends creating a code word so victims can text a family member or a neighbor to let them know they need help. 
Part of an abuser's behavior includes isolating the victim from friends and family and manipulating the family's finances, Ryan said.  "You are not alone."
Ryan recommends talking with someone if they suspect they are a victim of domestic abuse. "Just be there for them, because there may come a time that person will want to leave."