The stylish Hylton Performing Arts Center stands as the defining landmark of George Mason University's Prince William campus, and it's set to grow in size and stature over the coming years — but what does the building cost taxpayers, and is it worth the expense?
Elected leaders have asked those questions since the center opened in 2010 through a partnership between GMU, Prince William County and Manassas, and the questions have become more relevant as university staffers put the finishing touches on plans for a new, 14,000-square-foot education and rehearsal wing.
As the center enters its eighth full season of hosting everything from acrobats to operas, executive director Rick Davis believes his organization is "thriving based on every objective and subjective metric."
But financial documents released in response to a Freedom of Information Act request by InsideNoVa reveal that the center does still have some work left to start operating in the black, even as it has managed to steadily build up its endowment and total income.
"There's just been an amazing growth in participation and audience and impact," Davis said. "In general, we're a straight line moving up in all the sectors that matter."
The center's financials also show that it remains heavily dependent on funding from the university for its daily operating expenses and on money from the county and city to pay off construction debts, trends Davis is eager to reverse in the coming years.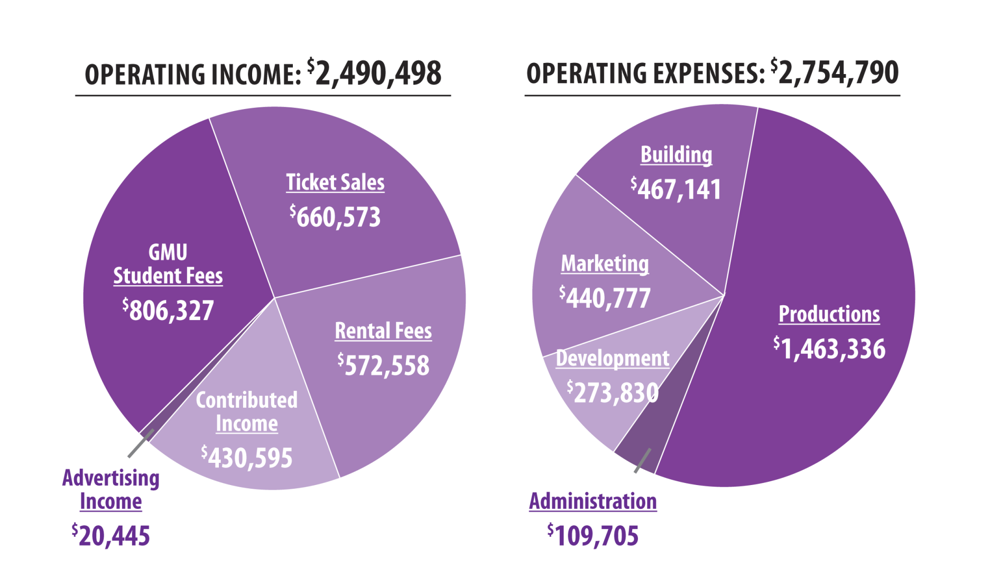 Persistent Deficits, Rising Investments
Most of the line items on the Hylton Center's financial reports are far from surprising — since GMU opened the 85,000-square-foot facility, the center has reported steadily rising numbers of ticket sales, rental fees and outside contributions.
The center's expenses haven't changed much either over the years, with the bulk of the costs devoted to paying its debt service fees and bringing productions to the facility.
The most notable section of the center's finances is the deficit it has reported each year, starting at about $337,000 in 2010, spiking to as high as $704,000 in 2014, and standing at about $264,000 for 2016. (2017 numbers were not final on reports received by InsideNoVa.)
Davis says Mason covers the cost of any deficit each year, because the center is "a creature of the university," in addition to the hundreds of thousands of dollars GMU provides to augment the center's operating budget and pay off its loans.
Davis adds that the deficit is a bit deceptive and shouldn't be any cause for concern. He notes that Mason officials and elected leaders originally planned to raise $15 million for the center's endowment before it opened, which would have provided a hefty amount of investment income to draw from to support operations.
But inflation and construction costs marched upward as the center was designed, he says, so raising all that money would have taken longer than anyone could afford to wait.
"We decided to forego that part of the business plan in order to build the building in a timely manner," Davis said. "Otherwise, the escalation in cost would've eaten up the whole thing. So we opened with a planned deficit, and the goal since then has been to manage that deficit downward and we've been doing that in the last four years."
Davis says the center is on a "glide slope" to whittling the operating deficit to zero by as soon as next year, in no small part due to success building up the center's endowment. The endowment started at about $2.2 million when the center opened and was at about $4.6 million by 2016. The center reported just over $469,000 in investment income from the endowment so far this year, which Davis hopes to use to increasingly start funding more of the center's operations.
Michael Montgomery, who has worked with his fair share of universities during his time at a Michigan-based firm advising nonprofits and philanthropies, believes Davis' approach is generally sound.  Montgomery says it's "not out of the ordinary" in the slightest for an arts center to run "at less than break-even," and he suggests that it "absolutely makes sense" for the center to operate at a bit of a deficit as it builds its endowment.
That said, Montgomery does expect that the center has plenty of work left to cover more of its expenses with investment income from that endowment — he estimates that similar organizations generally need endowments of anywhere from $10 million to $12.5 million to consistently generate $500,000 of "spendable income" each year. He suggests the endowment would need to be "more like $20 million to $25 million" if the center wants to see $1 million in income instead.
"These sorts of centers tend to do programs that are uplifting and more artistic in nature...so there are going to be tight economics," Montgomery said. "You don't see them hosting a lot of tractor pulls."
The center's finances are bolstered because it has steadily received more money from GMU through student fees — those accounted for about $244,000 income in 2010, rising to about $1.3 million in 2016. Davis says that's due to the university attracting more students, and more people using the center, which has let the organization steadily pull in more money from those fees.
Montgomery notes that may be a feature worth noting for anyone paying tuition, but generally makes sense for the university financially.
"The arts center has helped this former commuter college to achieve prominence in a market where they might otherwise have had difficulty getting noticed," Montgomery said. "You could burn this kind of money every year on advertising and not generate as much attention as thing does."
'Vulnerable' county funding
But Montgomery sees one flaw in the center's financial plans: Relying on local governments to regularly appropriate funding can leave the organization "vulnerable" to the whims of those governments.
Indeed, some of the more conservative members of Prince William's Board of County Supervisors have regularly questioned the wisdom of the county's continued investment in the Hylton center. Although the county is committed to helping defray the center's annual debt service costs, to the tune of just under $2 million each year, the county has also chipped in $1.2 million since 2011 to offset additional capital costs, and some supervisors have taken aim at that expense.
Supervisor Jeanine Lawson, R-Brentsville, proposed eliminating that contribution in the board's budget mark-up session this April, even though the center is in her district. Supervisor Pete Candland, R-Gainesville, and At-Large Chairman Corey Stewart both supported Lawson's proposal, but that wasn't enough for it to pass on the eight-member board.
Lawson declined to comment on the issue, but Candland says the change is one he's long supported and will continue to propose. He worries that the county is "continuing to subsidize the center above what was originally asked for," even while there are other urgent funding needs, such as county schools and roads.
"It's not like we're not giving them anything," Candland said. "With all of the other needs we have in the county, we need to stop spending that money to subsidize programs that are tailored to a very small, specific group within the county. At some point, they need to be able to stand up and stand on their own."
Davis is certainly aware of those concerns, and he feels the center makes its case for its value to the county "every day." He believes the center serves as "focal point" for economic development in the community, and regularly provides the county with the sort of advertising it couldn't hope to buy on its own.
"A first-class cultural amenity is sort of known across the country as a thing that you have to have to attract and retain a workforce at a certain level," Davis said. "Our corporate partners at Micron and BAE and others will tell you that that's why they're supporting us; they need that presence of the world's best art to attract the world's best employees."
Davis expects the center will only continue to step up its game in terms of the quality of its programming in the coming year — he's especially enthusiastic about luring more opera productions to the area — and draw even more visitors when it can complete its addition.
The new wing is funded through a mix of state money and private contributions. Although Davis can't commit to a date for a grand opening, he says design work will be finished "soon."
Whenever the center successfully expands, Davis believes the addition will only reaffirm its place in the community and set it up for success decades from now.
"We are both a symbol and an agent of change," Davis said. "We represent the change that is happening in the county and we help bring it about."