Forty-year-old Sandra Pahl of Dumfries came in first in the women's division of the Devil Dog Double in the 2018 Marine Corps' Historic Half Marathon on May 20.
She finished 11 overall out of 449 finishers in the Devil Dog Double. Bryce Peterson, 23, of Quantico, finished first.
The Devil Dog Double is a specialty event that requires participants to run the Semper Five Race and immediately complete the 13.1 miles of the Historic Half Marathon.
Thomas Porter of Fredericksburg, Nick Reed of Fairfax and Mark Hopely of Fredericksburg were the top three men finishers in the HHM.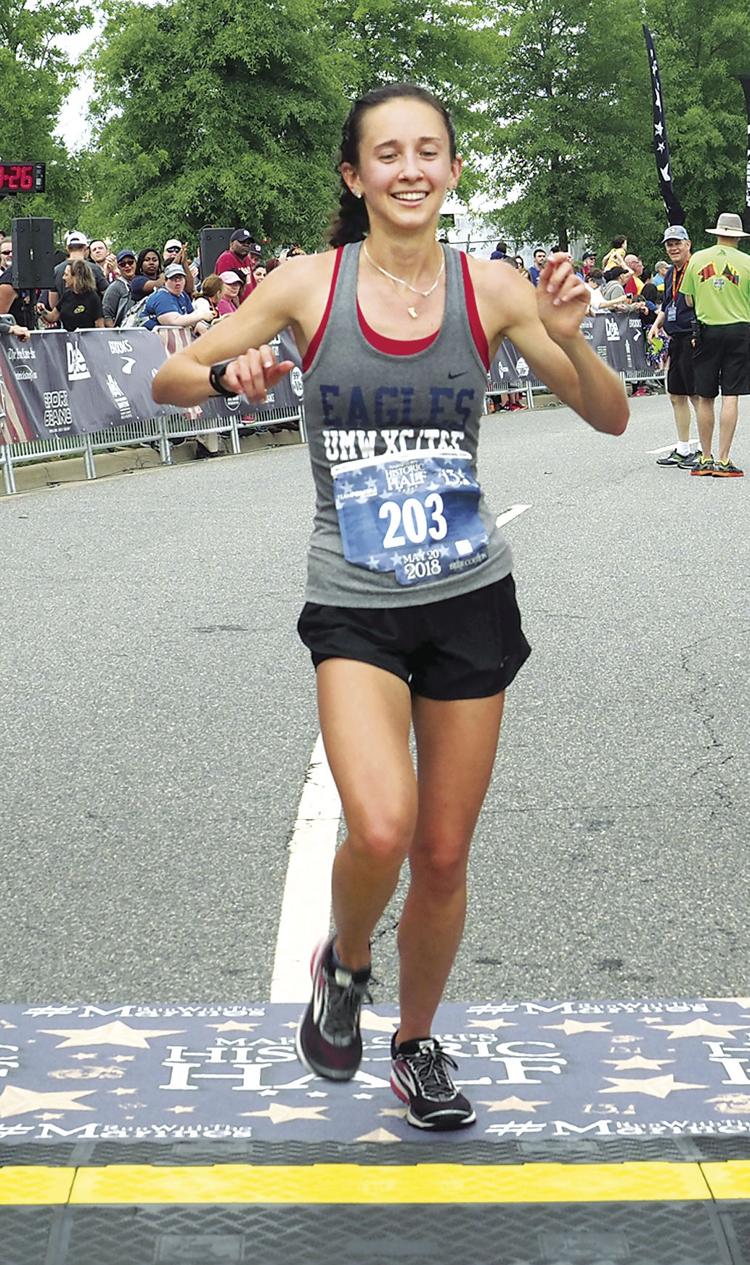 Jillian Weisbeck of Fredericksburg, Patricia Walsh of Severn, Md., and Erica Brecher of Fredericksburg were the top three female finishers in the HHM.
Randy Shelton of North Prince George, Va., Jonas Fuglem of Quantico and Samuel Lakulis Jr. of Stafford took the top three awards in the Semper Five.
Jenna Scholz of Alexandria, Miho Cunney of Garrisonville and Brittany Cain of Arlington took the top three awards in the women's division of the Semper Five.
Bianca Reed of Haymarket was first in the Hand Cycle division. She said, "I'll be back in the fall," as she was given her finisher's medal.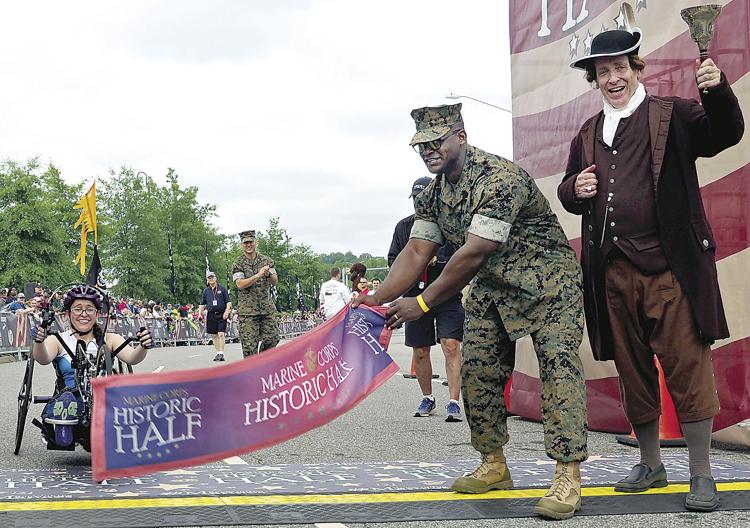 Matt Hoioos of Stafford participated in the Duos category with Ainsley's Angels.
Hoioos was an Angel Athlete Rider in a Freedom Chariot with Michael Kainu and Chris Reinhardt of Fredericksburg serving as his runners during the 13.1 mile HHM.
Ainsley's Angels was founded in 2011 to build awareness about America's special needs community through inclusion in all aspects of life.  
The 11th annual HHM had 4,704 entries and 1,964 people entered the Semper Five for a total of 6,568 participants.
Participants this year came from all states, said Marine Marathon Marketing Manager Marc Goldman.
Results for all events can be fund online at www.MarineMarathon.com.