The 37th Annual Fall Jubilee will be held October 5th from 10 a.m. until 5 p.m. This highly recognized craft and artisan festival brings out nearly 30,000 people to visit Historic Downtown Manassas each year. Streets become lined with booths featuring unique crafters, non-profits, local community booths, and numerous downtown merchants. There is fun to be had for everyone at the Fall Jubilee!
RETURNING this year- Dare Devil Dog Show! A thrilling stunt show where dogs of all kinds snag flying discs while leaping, twisting and turning in the air. Shows will be taking place throughout the day on the Manassas Museum Lawn.
On the Community Stages you can watch your neighbors showcase their skills. Talented performers from our area will be featured on the stage including the Manassas Ballet and Calico Cloggers. The stages will be located on Main Street at Church St and the Train Depot Parking Lot. Check the schedule for your favorite performers!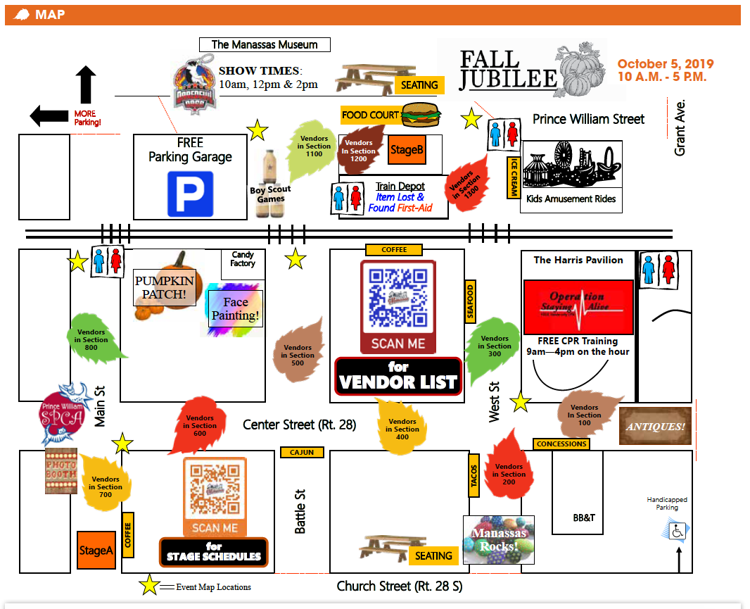 Be sure to stop by #ManassasRocks on Center St at Main St to paint and decorate rocks, then hide them all over town. This local organization has inspired families all over Manassas and Prince William County to be creative, get out and about in their neighborhoods and better explore their towns.
Other wonderful activities throughout the event include face-painting, delicious food, kids rides and the SPCA Adoption Van!
Also returning this year, from 9 a.m until 4 p.m. the City of Manassas Fire and Rescue Department is offering free Hands-Only CPR training at the Harris Pavilion. The course will be offered every hour on the hour and is open to all ages. Stop by the Harris Pavilion to sign up the day of the event.
The Historic Manassas, Inc. Special Events ABC License will be in effect for the Fall Jubilee beginning at noon, allowing individuals of legal drinking age to enjoy an alcohol beverage from our local restaurants in the streets. Stroll through the festival while you enjoy your favorite beverage! We do encourage all patrons to please drink responsibly.
Parking for the Manassas Fall Jubilee can be found in the free, downtown multi-level parking garage on Main Street and Prince William Street.
For more information about Historic Manassas, Inc., the Manassas Fall Jubilee, and other great Manassas events, go to www.visitmanassas.org.