Becki and Carrie Sutter have seen plenty of walk-in clinics fail.
The twin sisters have been with each other every step of the way as their medical careers took them to universities and hospitals throughout the greater D.C. area. But after spending years treating children from low-income families at the Children's National Medical Center, the nurse practitioners decided that setting up clinics for people who can't afford medical care might be the surest way to make a difference.
So as the Sutters decided to start tackling teaching roles at hospitals around Northern Virginia, they would simultaneously start up small clinics to work with patients who would otherwise turn to emergency rooms for even the most basic medical services. Yet the sisters kept running into the same problem.
"As soon as we'd leave, they'd collapse," Carrie Sutter said.
After all, the world of walk-in medical clinics is hardly awash in money. But as they moved to George Mason University, they didn't get discouraged — they simply decided to re-think their methods.
The Sutters started looking around for the place they could make the biggest difference with a new clinic, and soon they landed on Manassas Park. Federal data suggests that the small city is one of the most "medically underserved" areas in Northern Virginia, and even the state as a whole, meaning that the city doesn't have enough doctors practicing nearby to serve its many low-income residents.
"You have to go to where the need is," Becki Sutter said. "You shouldn't pop up in an area that doesn't need you."
The Sutters opened the makeshift "Mason and Partners" clinic in Manassas Park's Costello Community Center by October 2013. Now, nearly four years later, the sisters have managed to set up their own standalone clinic adjacent to the community center, as well as ones in Falls Church and Springfield.
Even though they don't plan on going anywhere anytime soon, the Sutters are hoping they've created a model for a clinic that can stand the test of time. They say they've already treated more than 10,000 patients, and they hope their model for treatment is one that communities around the country could even emulate.
"This could help manage the future of health in our communities," Carrie Sutter said.
Safety net to the safety net
The Sutters have dubbed their technique at the clinics as a "bridge care model."
The small facilities only serve about two dozen patients each day and are staffed by a handful of nurse practitioners and social workers from Mason, who supervise some of their students as they help treat each clinic's visitors.
By working at such a small scale, the Sutters say their goal isn't to provide a permanent place for their patients to get care. Rather, they want to treat each visitor's most immediate needs, then work to connect them to more sustainable solutions.
"We're almost a safety net to the safety net," Becki Sutter said. "We give them care, get them out of the emergency room, and, hopefully, over time get them into a more secure situation by empowering them."
The sisters say each patient's situation is different — maybe someone qualifies for Medicaid benefits or might be able to get insurance through the state's individual marketplace, but doesn't have the resources or experience to navigate the complex healthcare system. Other patients could be undocumented immigrants who still might be able to find care through nonprofits or religious institutions.
"It's confusing to us who are well-educated to navigate the healthcare system," Carrie Sutter said. "But there are options."
So far, Becki Sutter said, they've been able to find more permanent care for about 60 percent of all their patients within 18 months of the first visit, and many are children who qualify for Medicaid.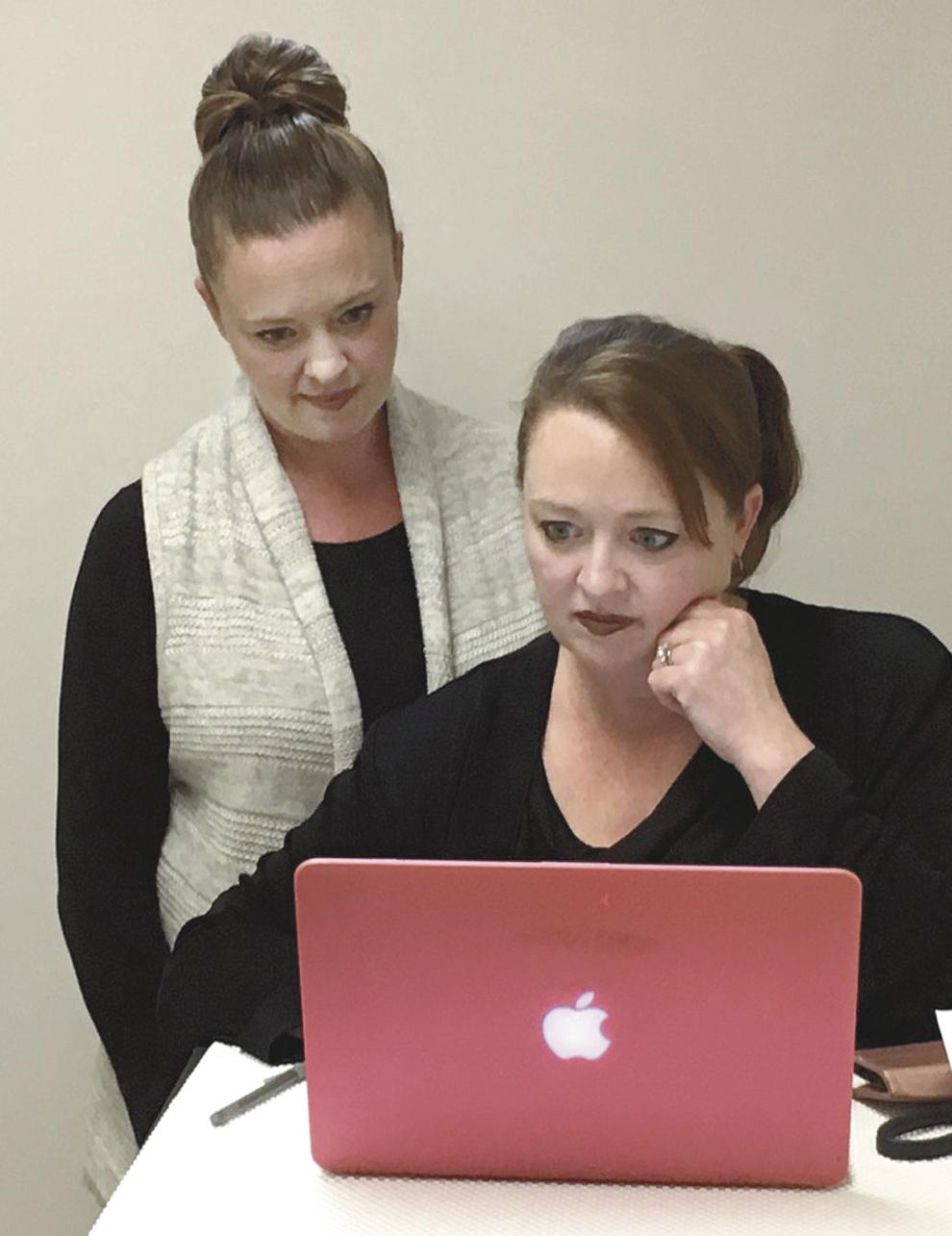 Wellness, not just health
But as a patient stays with the clinic, the Sutters and their colleagues work to provide care that's uniquely designed to "address wellness, not just health."
"We look at the factors that determine health," Carrie Sutter said. "Food insecurity, homelessness risk, transportation issues, job insecurity, those sorts of things."
Social workers and psychology nurse practitioners from Mason work alongside the Sutters at the clinic to address those sorts of issues. Michelle Ramirez, a Mason student who interned at the clinic for two years as she worked toward her graduate degree in social work, says that could take the form of connecting someone with a local food bank or even charting out a bus schedule to help a patient meet a specialist.
"I would make sure clients could actually follow through, instead of just handing them a flyer and saying, 'I really need you to call this, but I have five other patients as well, so I can't really walk you through those steps,'" Ramirez said.
Patients like Linda, a 48-year-old Springfield woman who declined to give her last name as she searches for work, said the Sutters were particularly effective in helping her get care at a cost she could actually afford.
She first stopped by the Mason and Partners clinic in Springfield simply to get a refill for a prescription she has used for years to control her high blood pressure. Not only did the staff help her find a cheaper version of the same medication, but they even discovered that her blood sugar levels put her at risk of developing diabetes.
"They were a lifesaver for me," Linda said. "I didn't even realize I was having issues with my blood sugar. And I don't know if a normal doctor would've even thought to check that. They certainly wouldn't have at an emergency room, which would've been a thousand-dollar visit just for a one-month refill of my prescription."
Though she's still on a few waiting lists at other clinics, Linda said she stops by the clinic about once a month these days for follow-up appointments.
"I wish I had the words to explain how much I think this organization is helping our community," Linda said.
Prince William, and beyond
Manassas Park and Prince William County officials certainly agree with her assessment of the Sutters' work.
Dr. Alison Ansher — the health director for the Prince William Health District — worked with the Sutters to set up the clinic in 2013, as she would constantly hear from people with "a lot of chronic disease issues that weren't being addressed because they're underinsured." But with the Mason clinic in town, Ansher has a solution to offer people in need.
"We would ask these questions to people, whether about substance abuse or behavioral health, and really had a challenge in finding resources for them," Ansher said. "But I'm able to call them up and say, 'We have this client, can you see them for this that and the other.'"
Manassas Park Mayor Jeanette Rishell said the clinic has filled a key gap for the city itself as well — she estimates that 27 percent of residents from ages 0-64 don't have health insurance. While the community center once hosted another walk-in clinic before the Sutters arrived, she said the Mason clinic has made a huge impact on the city, particularly once they opened up the new standalone structure this May.
"It is so heartwarming to know that folks can have this type of access to basic health services in this way," Rishell said.
But the Sutters have grander plans than simply making a difference in the communities they currently serve.
"Once you expose a student to a certain population or environment or community, they tend to want to work in that community, and that's a part of this too," Carrie Sutter said.
The Sutters said part of their aim is changing the way the next generation of doctors and nurses thinks about how to care for low-income patients. Several of the students who worked at their clinics have already gone onto jobs at Mason or even the Inova Health System, and the Sutters hope they apply the methods they learned with Mason and Partners down the line.
"I think their careers are in a lot of ways being defined by their experiences here in the clinics," Becki Sutter said.
Ramirez, who graduated this spring and is set to take a social work job at Inova, said she certainly won't forget what she learned from the Sutters anytime soon.
"There are other barriers clients face that sometimes go unaddressed," Ramirez said. "But if you don't stop and look at those barriers, it's doing a disservice to your client. That's really ingrained in my mind now."
Ramirez's story gives the Sutters hope that other universities might be willing to embrace this sort of model, and spread it around the state (and even the country).
Like any walk-in clinic, the sisters certainly face challenges — the Sutters fret every day when they hear that congressional Republicans plan to cut hundreds of billions from Medicaid, which would leave many of their patients without a resource beyond their clinics — but they think they've finally found a sustainable model to help the people most in need.
"This is something that has the potential to be bigger," Becki Sutter said. "It just takes the right amount of resources and ingredients.