Hurled profanities and chants of "Shame, shame!" greeted the Prince William Board of County Supervisors at its Oct. 3 meeting, after lawmakers declined to debate a proposal aimed at changing the monikers of county buildings and roadways named after Confederate figures.
Supervisor Frank Principi, D-Woodbridge, was proposing a resolution 
moving the county
 toward renaming Jefferson Davis Highway (commonly known as U.S. 1), and a volunteer fire station and two schools named for Gen. Thomas "Stonewall" Jackson in western Prince William. The board doesn't have the authority to change any of those names unilaterally, but Principi designed the measure as a way to condemn the white supremacist violence in Charlottesville this summer and recommend the re-namings to the relevant parties.
Yet supervisors refused to even discuss Principi's proposal — his motion to open debate on the issue didn't earn a "second" from a single one of his fellow board members, so it didn't move forward. That prompted the dozens of community members and activists in attendance, all of whom spoke in support of Principi's measure, to erupt in jeers and expressions of disbelief at the board's reticence.
Some were so persistent at heckling the supervisors (and pledging to defeat them in coming elections) that At-Large Chairman Corey Stewart, a Republican, forced all the attendees to leave the board chambers. Supervisor Marty Nohe, R-Coles, subsequently proposed a substitute resolution condemning racism and reaffirming the county's commitment to diversity, but without any of the language recommending the renamings.
That measure passed 7-1, with only Principi dissenting in a show of frustration, but it did little to placate the furious advocates stewing in the McCoart Administration Building lobby.
"They have no courage, no backbone," said the Rev. Cozy Bailey, president of the Prince William chapter of the NAACP. "Too many of them have been there too long, so it's just business as usual. I hope that half of them don't even run again in 2019. If they do, they will face a very different Prince William County. People are starting to pay more attention."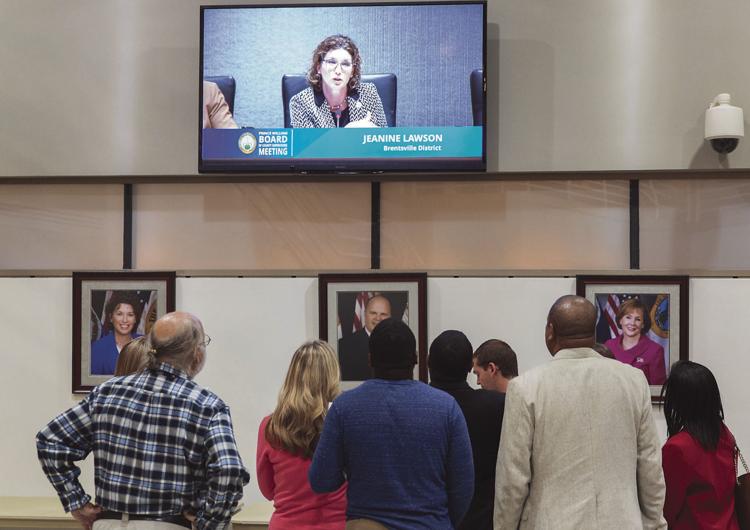 In an interview after the meeting, Principi was frustrated but not necessarily surprised that the board wouldn't discuss his motion. He felt Nohe's substitute motion was a bit "mealy-mouthed" and lacked substance, so he didn't even bother supporting it.
"A third-grader could've written it," Principi said. "It's unfortunate it ended like this."
But once county staff cleared the board chambers, Nohe and the rest of the board took time to blast Principi's proposal as one that insufficiently engaged the community.
"I don't believe we're ready for name changes yet," said Supervisor Ruth Anderson, R-Occoquan. "We need much more community involvement, community meetings...and we need an analysis done. We need to know the consequences of each name change."
Anderson and Supervisor Pete Candland, R-Gainesville, both suggested that they may be open to some name changes going forward. But Candland, in particular, saw Principi's proposal as one of "political opportunism" rather than a good-faith effort to have a discussion about Confederate names.
"This process was not meant to unify, but divide," Candland said. "It should be done together...When it comes time to re-name buildings and roads, what is the line we draw as a community?"
Stewart, a 
vocal defender
 of Confederate monuments during his failed campaign for Virginia governor and his ongoing campaign for U.S. Senate, remained silent.
Supervisor John Jenkins, D-Neabsco, admitted that he had some concerns about the resolution's "structural deficiencies," but he also said that he planned on seconding Principi's motion to open debate on the issue. But he claimed the crowd "drowned out" his attempts to do so.
Principi didn't buy that argument, noting that there was a long pause before the crowd became unruly where Jenkins could have acted. He said he was "under the impression" he would at least get a second for his motion, and was disappointed Jenkins failed to speak up.
"We're the ones with the microphones," Principi said. "And then, to clear the chamber, it was just the antithesis of a dignified process."
He also claimed that it's "nonsense" that there wasn't enough community feedback on his proposal, pointing out that community members spoke for nearly two hours during the board's "citizens' time" and supervisors "didn't hear one person opposed" to his measure.
Principi also said he communicated with state transportation officials and the leadership of the Stonewall Jackson Volunteer Fire Department near Manassas to get a handle on the costs associated with his proposal.
The board can't change the name of the highway without the approval of state legislators, but the county could have replaced the "Jefferson Davis Highway" signs with ones merely designating it as "Route 1." When combining those costs with any effort to replace the fire department's equipment and signage, Principi expects it would have cost the county about $500,000 in all, an estimate he said every board member had ahead of the meeting.
School board Chairman Ryan Sawyers, who 
first proposed
 renaming Stonewall Jackson High School and Stonewall Middle School, estimated that it could cost the school division about $750,000 to rename those buildings. He has started a private "GoFundMe" account to defray those costs, but the debate about renaming Confederate names in the county has often centered around the expense.
"Renaming streets and buildings is a worthy conversation for our community to have but should only be done after community input, not as a political stunt intended on inciting emotion," said D.J. Jordan, spokesman for the Prince William County Republican Committee. "We need a process that unifies our community, analyzes whether this is the best use of taxpayer money and answers the question of how far do these re-namings go."
Principi said he isn't terribly sure how this debate might move forward, adding he would be "pleasantly surprised" if any other supervisor brought up a similar measure for debate at a future meeting. Instead, he hopes that the night's dramatic turn of events serves to sufficiently frame the stakes of local elections in the rapidly changing county.
"I think the folks who want to impeach our chairman will have their spines a bit more strengthened," Principi said. "As for the rest, we may have to wait until 2019, 2020 to see a change."