Northern Virginia is seeing fewer of the state's COVID-19 cases and deaths, and Arlington is the first in the region to reach a key goal in fighting the coronavirus: a low percent of positive tests.
The region has 55.2% of the total number of cases in the state. But, with 362 new cases Tuesday, the region accounted for just 43% of the state's new cases — that's less than half for the fourth day in a row.
The state reported 841 new cases across Virginia and 15 new deaths, including five deaths in Northern Virginia, according to data from the Virginia Department of Health.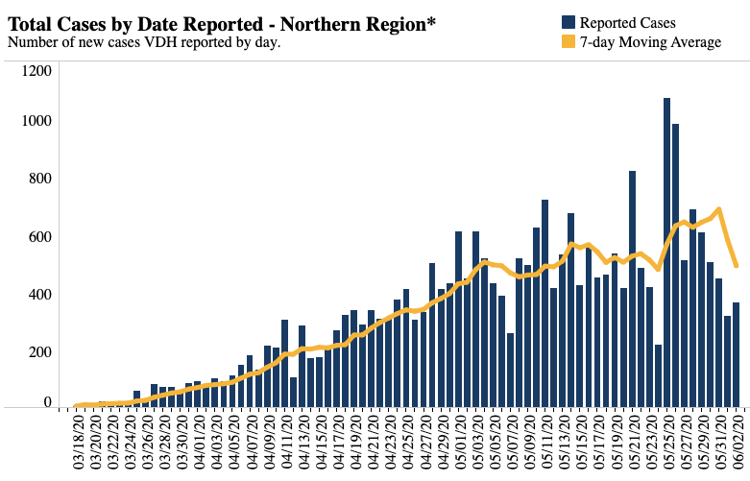 The state's total number of COVID-19 cases is at 46,239. Northern Virginia accounts for 25,503 cases.
The state's total number of deaths due to the coronavirus is at 1,407. Northern Virginia accounts for more than half of those deaths at 754. 
The health department's COVID-19 data is updated each morning by 10 a.m. and includes cases, deaths and hospitalizations reported by local health agencies before 5 p.m. the previous day. 
Statewide, 6,321 diagnostic test results were reported Tuesday, down from 9,285 reported Monday.
Northern Virginia's average positivity rates continued to drop. State health officials have said 10% is a goal and 5% would be ideal. Arlington has a 7-day average of 9.5% 
7-Day Average Positivity Rate | June 2
| Health District | May 15 | Latest | Trend |
| --- | --- | --- | --- |
| Alexandria | 26.2 | 11.5 | Down |
| Arlington | 23 | 9.5 | Down |
| Fairfax | 26.5 | 16.4 | Down |
| Loudoun | 20.2 | 14.6 | Down |
| Prince William | 28.5 | 18.5 | Down |
| Rappahannock | 14.3 | 14.8 | Stable |
| Statewide | 15.4 | 11.5 | Down |
COVID-19 DATA BY LOCALITY | JUNE 2
| Locality | Cases | Hospitalizations | Deaths |
| --- | --- | --- | --- |
| Alexandria | 2,000 | 193 | 44 |
| Arlington | 2,133 | 377 | 117 |
| Fairfax | 11,426 | 1,358 | 391 |
| Fairfax City | 67 | 8 | 6 |
| Falls Church | 55 | 11 | 8 |
| Loudoun | 2,636 | 165 | 67 |
| Manassas | 1135 | 70 | 11 |
| Manassas Park | 327 | 32 | 6 |
| Prince William | 5,724 | 476 | 104 |
| Totals | 25,503 | 2690 | 754 |
| | | | |
| County/City | Cases | Hospitalizations | Deaths |
| Fredericksburg | 172 | 22 | 0 |
| Spotsylvania | 586 | 42 | 7 |
| Stafford | 733 | 75 | 5 |
| Fauquier | 326 | 22 | 6 |
| Totals | 1817 | 161 | 18 |
LATEST COVID-19 DATA
New Cases/Deaths
Northern Virginia: 362 new cases, 5 new deaths

Statewide: 842 new cases, 15 new deaths

Statewide Testing: 6,321 diagnostic tests
Overall Total
Northern Virginia: 25,503 cases, 754 deaths

Statewide: 46,239 cases, 1,407 deaths

Statewide Testing: 328,889 diagnostic tests (369,308 when including antibody tests)

Multisystem Inflammatory Syndrome in Children (MIS-C): Two cases in Fairfax County
*Provided by Virginia Department of Health
---
Statewide Hospital Data
Hospitalizations: 1,362 (down from 1,371 the previous day)

Peak Hospitalizations: 1,625 reached May 8

Patients in ICU: 336 (down from 347 the previous day)

Patients Discharged: 6,011 total
Nursing Home Data
Nursing Home Patients: 1751 (down from 1,618 the previous day)

Homes reporting difficulty obtaining N95 masks: 14

Homes reporting difficulty obtaining isolation gowns: 12
*Provided by Virginia Hospital and Healthcare Association
---
U.S. | World Data
U.S.: 105,147 deaths, 1.81 million cases, 458,000 recovered

World: 376,077 deaths, 6.29 million cases, 2.65 million recovered
*Provided by Johns Hopkins University