Overall, hospitalizations due to COVID-19 in Virginia have climbed to the highest level since June 4. Excluding Northern Virginia, the hospitalizations are at the highest level since the pandemic began.
There are now 1,218 patients in Virginia hospitals, compared to a low of 783 patient July 6.
After leading the state during the early months of the pandemic, Northern Virginia's hospitalization have stayed near all-time lows for nearly a month. On Thursday, hospitals were reporting 229 patients. The high for the region was 818 reported April 30.
Meanwhile, the eastern region of the state saw record hospitalizations Thursday, with 485 patients. The central and southwest region have also seen their numbers climb this week.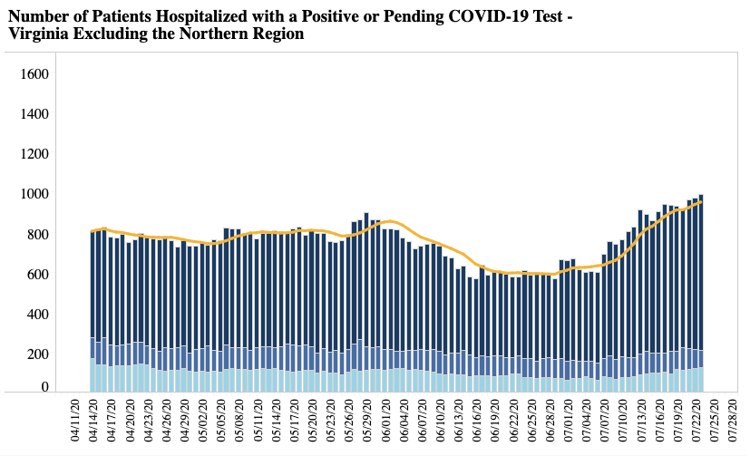 The state reported 844 new cases of COVID-19 Thursday, the lowest number in nearly two weeks. Northern Virginia reported 169 new cases.
The eastern region added 320 cases Thursday, and the southwest region, which has also seen a recent increase, added 94.  The central region added 150 cases, and the northwest region added 111.
Virginia reported only three new coronavirus-related deaths Thursday, with one in Northern Virginia. Overall, the state has reported 2,054 deaths, with slightly less than half, 1,013, in Northern Virginia and nearly a quarter, 511, in Fairfax County.
The health department's COVID-19 data is updated each morning by 10 a.m. and includes reports by local health agencies before 5 p.m. the previous day. 
COVID-19 Data by Locality | July 23
| Locality | Cases | Hospitalizations | Deaths |
| --- | --- | --- | --- |
| Alexandria | 2,639 | 256 | 56 |
| Arlington | 2,776 | 431 | 135 |
| Fairfax | 15,126 | 1,797 | 511 |
| Fairfax City | 74 | 9 | 7 |
| Falls Church | 55 | 10 | 6 |
| Loudoun | 4,758 | 325 | 106 |
| Manassas | 1,553 | 117 | 20 |
| Manassas Park | 479 | 49 | 7 |
| Prince William | 8,321 | 758 | 165 |
| Totals | 35,781 | 3,752 | 1,013 |
| | | | |
| County/City | Cases | Hospitalizations | Deaths |
| Fredericksburg | 308 | 31 | 1 |
| Spotsylvania | 1,212 | 87 | 33 |
| Stafford | 1,163 | 111 | 7 |
| Fauquier | 551 | 33 | 8 |
| Totals | 3,234 | 262 | 49 |
7-Day Positivity Rate | July 23
| Health District | Rate | Trend |
| --- | --- | --- |
| Alexandria | 6.7 | Up |
| Arlington | 5 | Down |
| Fairfax | 5.4 | Stable |
| Loudoun | 6.3 | Down |
| Prince William | 8.2 | Up |
| Rappahannock | 3.9 | Down |
| Statewide | 7.7 | Down |
LATEST COVID-19 DATA
New Cases/Deaths
Northern Virginia: 169 new cases, 1 new death

Statewide: 844 new cases, 3 new deaths

Statewide Testing: 17,971 diagnostic tests
Overall Total
Northern Virginia: 35,781 cases, 1,013 deaths

Statewide: 81,237 cases, 2,054 deaths

Statewide Testing: 969,145 diagnostic tests (1.06 million when including antibody tests)

Multisystem Inflammatory Syndrome in Children (MIS-C) cases: 8 
*Provided by Virginia Department of Health
---
Statewide Hospital and Nursing Home Data
Hospitalizations: 1,218 (up from 1,157 the previous day, highest since June 4)

Peak Hospitalizations: 1,625 reached May 8

Patients in ICU: 257 (up from 253 the previous day)

Patients Discharged: 10,479 total

Nursing Home Patients: 436 confirmed positive cases (down from 478 the previous day)
*Provided by Virginia Hospital and Healthcare Association
---
U.S. | World Data
U.S.: 143,224 deaths, 3.98 million cases, 1.21 million recovered

World: 624,665 deaths, 15.2 million cases, 8.7 million recovered
*Provided by Johns Hopkins University