Total COVID-19 cases in Virginia climbed to 6,171 in the latest report Tuesday morning, with 424 new cases reported.
Prince William County now has more than 500 cases, according to the state Department of Health.
Officials reported five new deaths from COVID-19 in the state, bringing the total fatalities to 154.
Case numbers are updated each morning. The numbers include cases and deaths reported by local health agencies by 5 p.m. the previous day. 
In Northern Virginia, including the Fredericksburg area, there are 2,962 cases, an increase of 182 from the day before, the state reported.
There have been 52 deaths in the region, with 21 in the Fairfax Health District, 12 in Arlington, 10 in Prince William, five in Loudoun, two in Rappahannock and two in Alexandria.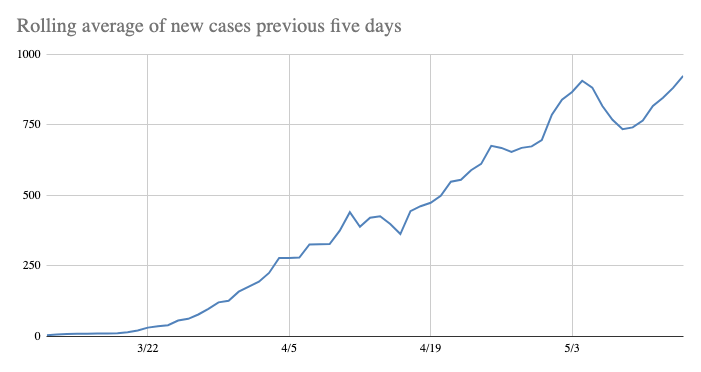 There have been 42,763 COVID-19 tests results reported in Virginia, meaning that about 14.4% are positive.
Northern Virginia cases, compared to the previous day's total, include: 
Fairfax County: 1,207, up from 1,164

Prince William County: 508, up from 434

Arlington: 401, up from 390

Loudoun: 344, up from 324

Alexandria: 247, up from 235

Stafford: 95, up from 87

Spotsylvania: 56, up from 51

Manassas: 49, up from 41

Fauquier: unchanged from 28

Fredericksburg: 14, up from 13

Manassas Park: 13, up from 10
In a separate report, the Virginia Hospital and Healthcare Association said there are now 813 people hospitalized across the state with confirmed cases of COVID-19, up from 765 Monday, and another 469 patients awaiting COVID-19 test results, down from 473 on Monday. There have been 721 hospital patients discharged after COVID-19 treatment.
The hospital association said 422 of the COVID-19 patients are being treated in intensive care units across the state, and 276 are on ventilators. The state has 2,838 ventilators available, according to the report.   
The coronavirus that started in China in late 2019 has led to 120,863 deaths, including 23,649 in the U.S., according to data collected by Johns Hopkins University. About 30% of the U.S. deaths have been in New York City.  Nearly 1.93 million cases of the virus have been reported, including more than 582,500 cases in the U.S. 
Johns Hopkins notes more than 44,308 patients have recovered in the U.S. and 464,000 have recovered worldwide. Virginia has not been reporting figures on the number of patients recovered.
Easing Virginia's stay-at-home order on June 10 could result in a significant spike in coronavirus cases and hospitalizations in mid-summer, according to projections released today by the University of Virginia's Biocomplexity Institute.
"We are assuming that things do not go back to a complete normal, but sort of a halfway normal," said Bryan Lewis, a research associate professor for the U.Va. institute.
The U.Va. data indicates that even though the number of new cases in the state is growing, the number of new cases is not increasing at an exponential rate or even at an accelerating rate but rather is growing at a steady rate.  The "reproduction" rate, or number of people infected by each new case, has dropped from 2.2 to 1.1.
Many Americans are moving around and taking trips out of town despite widespread stay-at-home orders, data gathered by researchers at the University of Maryland suggests, reports WTOP. According to an interactive analytics tool assembled at the university, only 35% of people nationwide are staying at home.
State regulators have received more than 150 complaints about insufficient precautions being taken against coronavirus at Virginia workplaces, reports NBC Washington.