Virginia added more than 100 new cases of coronavirus overnight, state health officials announced Wednesday.
There are now 391 cases of COVID-19 in Virginia — up from 290 cases reported Tuesday. There have been nine fatalities and 59 people remain hospitalized, up from 45 hospitalized Tuesday.
New cases of the coronavirus include 31 in Fairfax County, 11 in Prince William County, 10 in Arlington, two in Loudoun and one in Alexandria and Fredericksburg.
In total, Northern Virginia cases of COVID-19 include 76 in Fairfax County, 46 in Arlington, 32 in Prince William County, 20 in Loudoun, nine in Alexandria, six in Stafford, three in Spotsylvania, two in Manassas, and one in the cities of Fairfax and Fredericksburg.
The state reported a total of 5,370 test results received from all reporting labs.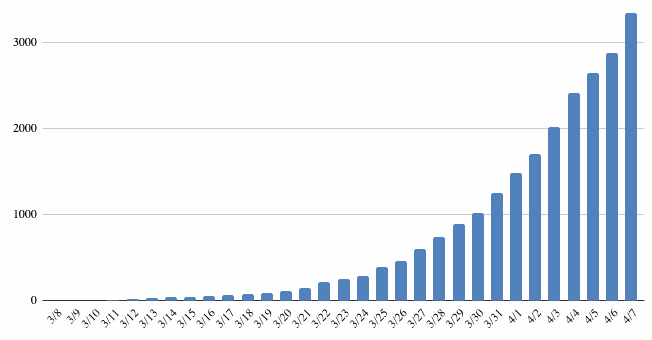 The coronavirus that started in China in late 2019 has led to more than 19,675 deaths, including 802 in the U.S., according to data collected by Johns Hopkins University. More than 438,700 cases of the virus have been reported, including more than 55,200 cases in the U.S.
Gov. Ralph Northam is expected to host a press conference on the latest in the state's response to the coronavirus at 2 p.m.
On Tuesday, Northam said Virginia will continue to struggle with the impacts of COVID-19 for months.
The governor was responding to a suggestion by President Donald Trump during a Fox News event Tuesday that Americans will be back at work by Easter. 
"It's fair to say we all want our lives to return to normal, but we have to use science and data and consultation and do what's in the best interest of Virginians," Northam said during a press conference when asked about Trump's timeline. "That's not what the data tells us."
Additional restrictions on restaurants and businesses went into effect Tuesday night, including the closing of any business that can't adhere to social distancing and 10-or-fewer customer limits. Restaurants are now limited to take-out or delivery orders.
"These are not easy decisions, because they will be painful for many people," Northam said. "We are fighting a biological war. To have economic recovery, we must get through this health crisis, first."
The governor encouraged workers impacted by the crisis to file for unemployment, and for businesses owners to apply for small business loans.
"I know it won't be enough to make up for the economic losses," Northam said. "It won't be forever. We will get through this."
Two residents of a rehabilitation center and nursing home in Henrico County have died from the coronavirus, the Richmond Times-Dispatch reports, bringing the state's deaths due to COVID-19 to nine.
Metro announced Tuesday it will close 17 additional stations, including seven across Northern Virginia, effective Thursday, due in part to concerns about cleaning supplies.
An Arlington County firefighter has tested positive for COVID-19, county officials announced Tuesday evening. "The individual is doing well and managing the illness at home, with the full support of family and the department," according to a county spokesperson.