A number of groups joined together Oct. 14 to spend the morning scrubbing the tombstones of the veterans and select family members who are buried at Quantico National Cemetery.
The project began as a service opportunity for the Garrisonville ward of The Church of Jesus Christ of Latter-day Saints who wished to support Virginia Day to Serve, according to a news release.
The cleanup effort at Quantico came at the beginning of the month-long initiative which runs from Sept. 11 to Oct. 10. The vision quickly expanded beyond church members to include other groups, including the Stafford Youth Group for the NAACP, North Stafford High School's chapter of the National Honor Society and North Stafford's Interact Club. HH Poole's National Junior Honor Society also came out to support the effort.
Working alongside the other volunteers, the president of the church's Stafford Stake, Bradley Sant, was pleased with the turnout. "This is what community service is all about, having so many groups coming together in meaningful service regardless of religion or personal beliefs. We need more of this," he said.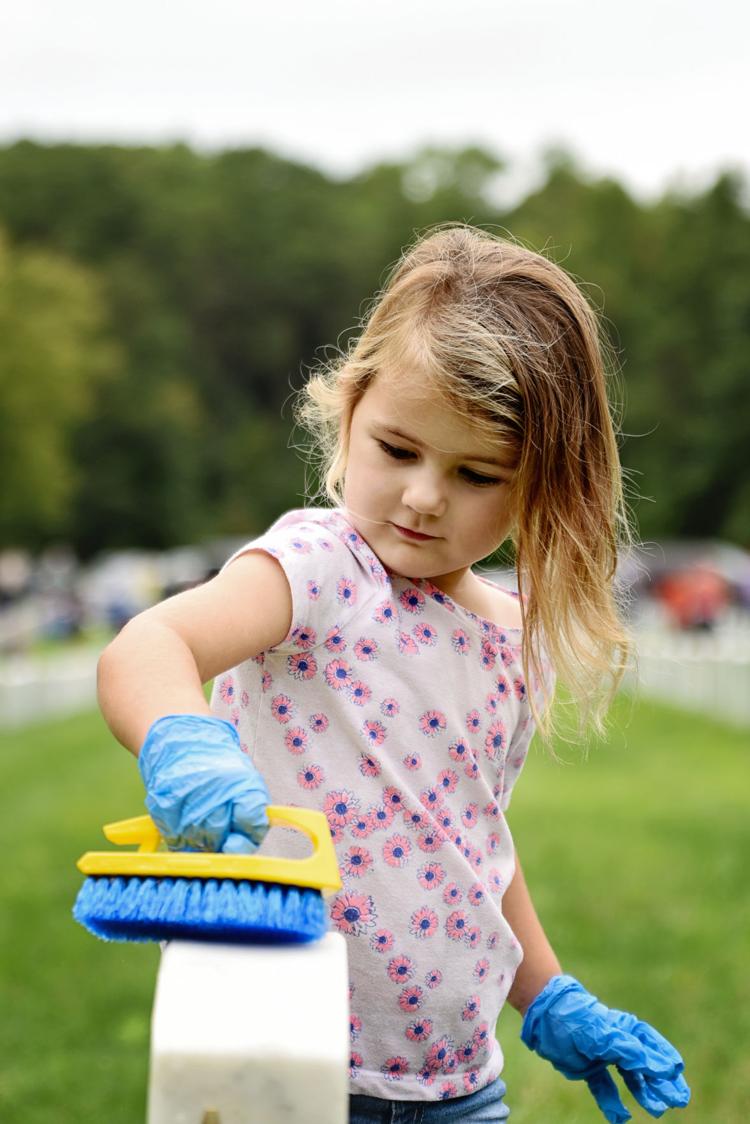 Bishop Matt Matteson of the Garrisonville ward expressed similar sentiments. "We are so appreciative that people from so many different faiths and different organizations came together for one purpose," Matteson said.
Adults and children washed, scrubbed and rinsed the headstones throughout the morning. While the cemetery assigned the group of volunteers to work in the sections of the cemetery where the most attention was needed, a few strayed to visit graves and clean headstones of beloved friends and family members. 
Carolyn Randall walked by with a bouquet of flowers. "While I'm here, I might as well visit the folks," she said.
Amy Luke and Sheila Fellows both visited their husband's graves with a few friends involved in the cleanup effort. 
"One of the hardest things is the idea that people could forget him," Sheila Fellows said of her husband, Scott Fellows. He served 22 years in the U.S. Army. 
By the end of the day, nearly 100 volunteers left the cemetery with a sense of accomplishment and with a renewed sense of community and an appreciation for the sacrifices so many have made to serve and protect this country.