A round of severe thunderstorms swept across the D.C. area on Thursday afternoon, spawning a tornado in southern Maryland, damaging Dulles International Airport with a lightning strike and leaving nearly 90,000 in Northern Virginia without power.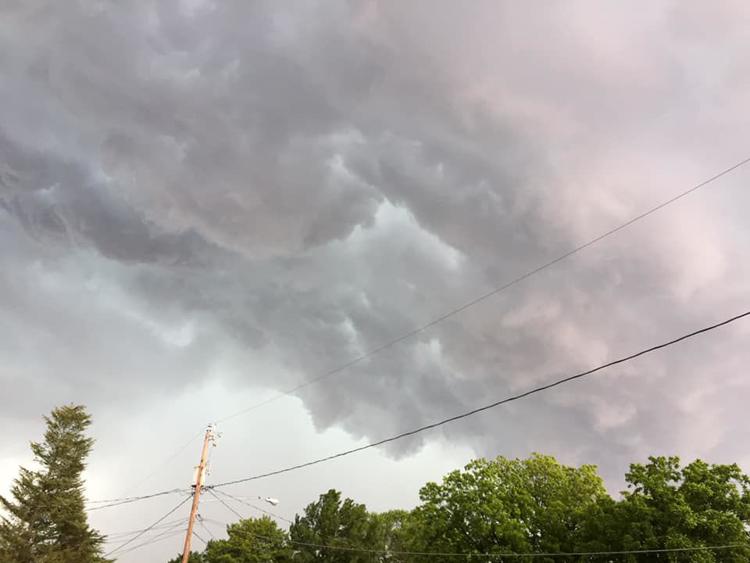 Flights were delayed for hours and water pressure at Dulles was impacted after lightning struck at Terminal B. Traveler Jeff Cahill said he waited 4.5 hours for a connecting flight out of Dulles.

By 8 p.m., water pressure had been restored and concessions and bathrooms were reopened, Dulles officials said.
At 3:34 p.m., an EF-1 tornado ripped part of the roof off an office building in Columbia, Maryland and snapped several trees, the National Weather Service Sterling office confirmed Thursday night. There were no reported injuries.
Along the National Mall, the National Park Service reported widespread tree damage from the Lincoln Memorial to the Washington Monument and around the Tidal Basin and Hains Point. A wind gust of 68 mph was recorded at Reagan National Airport at 3:45 p.m.
The Washington Monument's mulberry tree, which predates the monument itself (erected in 1848), toppled earlier in the week due to saturated soil. Crews erected it on Wednesday in an effort to save it, but Thursday's storm knocked it down again, the park service said.
The force of the storm moved the tree from its temporary support, causing additional damage to its limbs.
"Initial assessment is hopeful that it can be saved again, but we won't do a thorough analysis until the hazard trees around the Natl Mall are cleaned up," the park service said in a Twitter post. 
Shortly after the storms, more than 89,000 customers were without power across Northern Virginia, with the heaviest concentrations in Fairfax, Arlington and Stafford counties.
As of 10 p.m., that number was brought down to 65,000 outages remaining, with crews working to restore power as quickly as possible, Dominion Energy said.
"Our crews are working as quickly and as safely as possible to restore power," Dominion said in an alert to customers. "As soon as we are able to do a thorough assessment of the damages, we will be able to establish an estimated time of restoration."
Customers are asked to stay back from all downed wires or damaged equipment, and call immediately to report these damages at 1-866-DOM-HELP or 1-866-366-4357. 
Stay with insidenova.com for updates.