A decades-long effort to get Woodbridge commuters to Washington, D.C., by ferry has turned an important corner with local transit officials signing on. Advocates are pushing forward with plans to carry a few hundred government employees to work daily within the next few years.
The Potomac and Rappahannock Transportation Commission has offered to administer a $4.2 million federal grant that will launch a public-private passenger ferry on the Potomac River.
The idea is to start the service with two boats that can carry 400 passengers each  between the Occoquan Harbour Marina on the Occoquan River to Joint Base Anacostia-Bolling (JBAB) in D.C.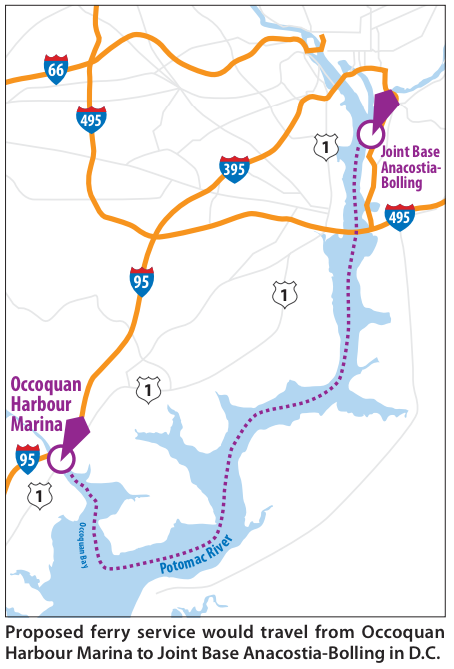 The PRTC Board of Commissioners voted Sept. 6 to request approval from the Federal Transit Administration to be the local administrator of a $4.2 million grant awarded to the Virginia Department of Transportation.
"As currently planned, ferry service would fill existing transit gaps between the I-95 corridor and Southeast Washington, D.C.," according to the resolution. "The importance of such a service will grow as the Department of Homeland Security consolidates its workforce in Southeast Washington."
PRTC has administered federal grants for its bus service and for the Virginia Railway Express but has not overseen a ferry service before, said Bob Schneider, PRTC's executive director, adding that the FTA approval could take three to four months.  
Developing the ferry service could take a year and a half to two years, Schneider said. The joint base is not served by VRE train service or OmniRide buses, so the ferry service wouldn't be competing against other public transit, Schneider said.
"It's really an underserved area," Schneider said.
The grant requires a local match of $845,000, which can be provided by third-party monetary or in-kind contributions.
Some business and property owners on the Occoquan River have proposed to expand the dock, build up to 340 parking spaces and create a covered waiting area as part of the in-kind contribution, according to the resolution passed by the PRTC board. A 5-year lease agreement of the property along the Occoquan River is estimated at $950,000, which is sufficient to serve as the local match.
The FTA awarded the grant to VDOT in 2014. A ferry service has long been sought by 40 stakeholders, including Prince William County Supervisor Frank Principi, D-Woodbridge, who has championed the idea for more than a decade.
VDOT studies began in 2000 and a PWC study was released in 2008. In 2012, a commuter ferry service steering committee was formed under the Northern Virginia Regional Commission and studies of the proposal commenced. The committee is set to present the results of a fourth study in October, and the results of a fifth study in December, Principi said. The fourth study looks into what kind of shore-side infrastructure is needed for the ferry service, Principi said.
"The $4.2 million helps give us a leg up for the improvement at Occoquan Harbour and JBAB marina," Principi said. "We are putting the pieces together of this jigsaw puzzle to get us to the point where can start making some decisions."
The committee has raised $5.5 million since it was formed in 2012, including the FTA grant, Principi said. Officials from the U.S. Department of Homeland Security and JBAB are very interested in receiving ferries at the base marinas and allow for the operation of a shuttle service for DHS and base employees, Principi said.
While the ferry service would be open to the public, the route to base would mean only those with clearance could disembark at the base, Schneider said. The ferry service could go to other destinations, but currently it's too early to say, Principi said.
Out of the more than 18,000 DHS and base employees, 6,000 live within 15 minutes of the Occoquan Harbour Marina, Principi said.
"We hope 10 percent of those people get out of the car and not take [Interstates] 95 and 495," Principi said.
The public-private relationship is key for this ferry service to get started, Principi said, adding that the private sector may be willing to purchase two 90-foot-long passenger boats with a top speed of about 48 knots or 55 mph. That deal would be tied to having a public partner.
"It is new, it's creative, it's innovative," Principi said. "With the two boats in operation from Woodbridge to JBAB, we believe we'll be taking nearly 1 million passengers off 95 a year. That assumes full capacity with upwards of 350 people on each boat. We don't think we'll do that in year one, but certainly by year three."
The ferry trip is estimated to be 45 minutes one-way, Principi said. The base fare is $30 round trip, but Principi said there will be an option to purchase an annual pass. With an annual pass and a subsidy for federal employees who use transit, the cost could be about $18 roundtrip.
The Potomac Riverboat Company, which was founded in 1974, offers tours, private charters and water taxi transportation from Alexandria, National Harbor in Maryland and Georgetown to The Wharf in D.C. Round trip fare is $18 for adults or $175 for an annual pass.
For the proposed PRTC ferry service, stakeholders are looking at existing ferry programs to serve as models, including in New York, New Jersey, Boston and Seattle, Principi said.
Costs to ride passenger ferries depend on multiple factors, including distance traveled. For instance, the commuter ferry in Boston ranges from $3.50 to $18.50 for one-way fare, according to the Massachusetts Bay Transportation Authority. For NY Waterway in New Jersey, one-way fares range from $9 to $21.50.  According to the Washington State Department of Transportation, one-way passenger ferry fares can range from $3.35 to $24.55.
While the proposed ferry service is still being developed, Principi compared the 40 stakeholders to people at a dance.
"I asked PRTC to dance and they said we'll dance," Principi said. "After a lot of years, a lot of [input from] stakeholders and studies, we're at a point now that we're turning a corner."