Prince William County residents are worried about how a possible bypass for busy Va. Route 28 will impact homes and businesses, and they won't know whether the county will build a bypass or simply widen the road until after they're asked to vote on $200 million for the project in a Nov. 5 bond referendum.
Transportation officials have long sought ways to improve the busy commuter route between Manassas and Centreville. For about a year, they've been focused on a key environmental study that will help determine the best option.
Adding two lanes to the existing route would impact about 90 businesses, officials said at a public meeting on the project Wednesday attended by around 150 community members.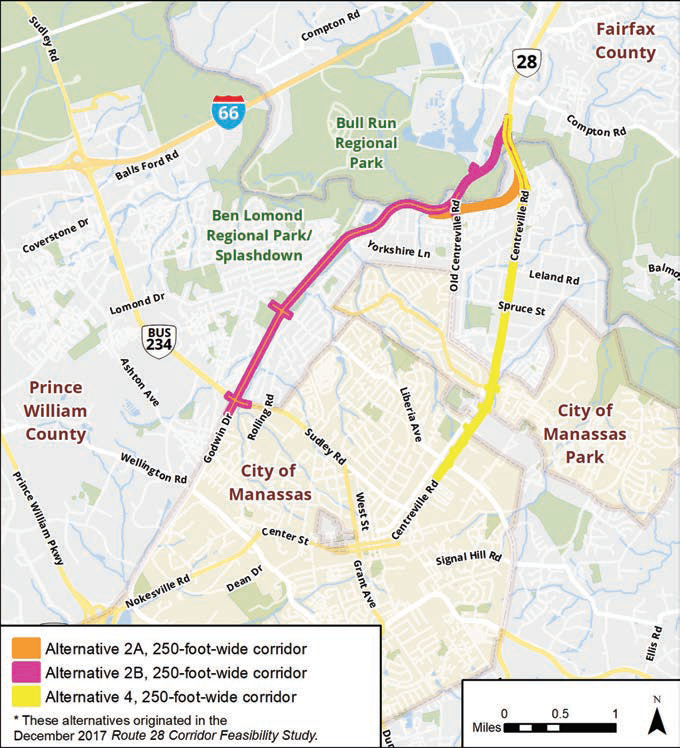 While selecting either of two proposed routes for a four-lane bypass would require the purchase of up to 70 homes. The bypass would extend Godwin Drive north from its intersection with Sudley Road and connect to Va. 28. Both of the bypass options would run parallel to Flat Branch, a creek that residents at a meeting Wednesday said floods after it rains. 
The environmental study is considering impacts to communities, traffic noise, historic and archaeological resources, water quality, park space, air quality, streams and wetlands, along with other impacts on the environment.
Ric Canizales, the county's transportation director, said the two proposed bypass options would have a larger impact on commuter traffic than widening the existing road. All three projects are estimated to cost about $300 million. 
On Nov. 5, voters will weigh a $355 million road bond referendum that includes projects throughout the county, including $200 million for Route 28. 
County staff has worked to improve the bypass options to decrease the amount of land that would need to be purchased.
The environmental study is expected to be completed by Spring 2020, including the findings from the Federal Highway Administration on the potential impacts of either bypass route.
"If we don't get the bypass, we have to do something, because Route 28 is one of the most congested corridors," Canizales told InsideNoVa. 
The administration could allow the bypass to be built, but also require additional mitigation of environmental impacts that could drive the cost to the point where a bypass isn't feasible, said Marty Nohe, Coles District supervisor and chairman of the Northern Virginia Transportation Authority.
The project currently has $95 million from the NVTA and needs the additional $200 million, Nohe said, adding the county has requested an additional $50 million from the NVTA. 
"Do nothing is no longer an option," he said, adding the traffic congestion grinds the economy to a halt. 
More than 57,000 vehicles travel daily on Va. 28, according to the Route 28 Corridor Feasibility Study released in December 2017. 
Nohe said the county could also seek Smart Scale funding from VDOT, but that could significantly add to the project's total cost, because it would then be required to follow additional regulations.
Canizales said if the project receives state funding, the proposed bypass or widening project could cost around $450 million.
Manassas resident Laurel Howard said she supports widening Va. 28, because she thinks businesses can more easily relocate than people displaced from their homes. 
"People and their homes should be more important than businesses," Howard said. "I'd rather be stuck in traffic than take someone's home away or ruin their front yard and make it impossible for them to sell their property."
Manassas resident Karen Bailey Bean said she lives near where the proposed bypass is proposed to be built. She grew up in the house she now owns that was purchased by her parents in 1962. She bought her siblings' portion of the house, she said.   
"I'll hear a highway in my backyard," she said. 
Bean said she plans to sell the house when she retires in two years. She said houses being built before roads are built is causing the traffic to worsen. She said her commute takes 8 minutes without traffic, but in the morning and afternoons, it can take 20 to 30 minutes.  
Staff is holding a meeting on Oct. 23 to further discuss possible right-of-way impacts. 
The county is accepting comments on the three proposed options to improve Va. 28 until Friday, Oct. 25. Email comments to info@route28study.com or mail comments to the Department of Transportation, Prince William County, 5 County Complex Court, Prince William, Va 22192.
For more information, visit route28study.com