The $34.3 million plan to widen Neabsco Mills Road near Freedom High School and the Northern Virginia Community College Woodbridge campus is on track to begin construction in spring 2021, with an estimated completion date of summer 2022.
The project is set to widen less than a mile of Neabsco Mills between U.S. 1 and Smoke Court, near the intersection with Dale Boulevard. It will be a four-lane divided road with a five-foot sidewalk on one side and a 10-foot multi-use path on the other.
The widening project will increase the road's capacity. About 12,000 drivers use Neabsco Mills Road daily, according to county officials. When the road is widened, it will be able to accommodate 20,081 or more vehicles per day.
After the Prince William Board of County Supervisors approved a final design for the project in January, county staff will be seeking approval from the Virginia Department of Transportation to acquire rights of way and to relocate utility lines, said Ric Canizales, the county's transportation director.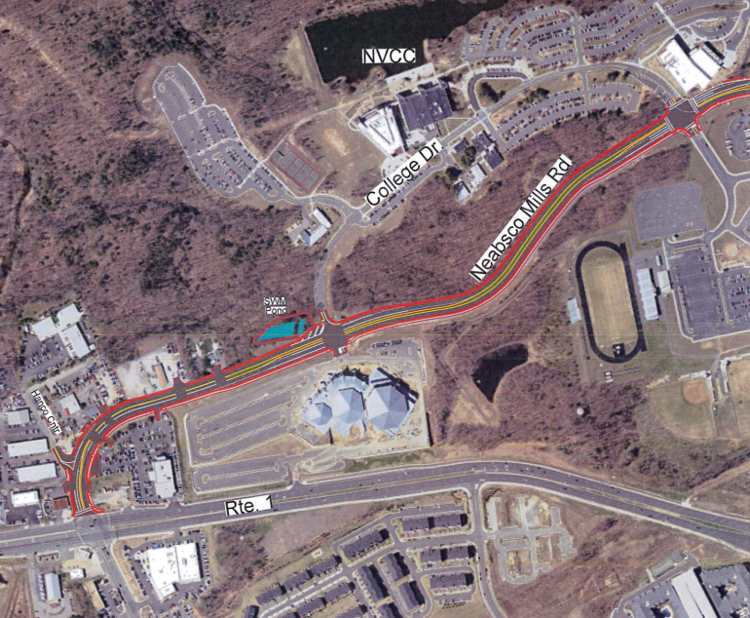 The process of acquiring the rights of way is expected to begin in the fall, he said, adding that the county will also begin relocating utility lines in late 2019 and early 2020.
"This is a long process, because it's a federal project," Canizales said. "It takes about 25 percent [longer] than a local project."
The county revised the project design to paint a portion of the median instead of installing a raised median, Canizales said. The move follows concerns by some property owners that access would be limited to certain businesses.
The widening project will still create a divided median near U.S. 1, which will eliminate a left-turn from Neabsco Mills Road to the businesses along Hanco Center Drive. To mitigate concerns, the county added a U-turn at College Drive and Neabsco Mills Road.