In a neighborhood west of Va. Route 28 and near SplashDown Waterpark, Sharron Jones and her husband spent $60,000 on improvements to the outside of their home a few years ago, adding a porch, patio and new landscaping and upgrading the roof, windows and siding. 
"We wanted a porch all those years, and five to six years later [after we built it] we got the letter," Jones told InsideNoVa on Monday. 
In the letter, received about two years ago, the couple learned that their house was among those that Prince William County could purchase under eminent domain to build a $300 million four-lane road to serve as a Route 28 bypass. By extending Godwin Drive north of Sudley Road, the project aims to alleviate traffic on the busy commuter route, but Jones and nearly 35 other families would be forced to move.
"This was the house," Jones said. "We were going to stay here for the rest of our lives." 
The Prince William Board of County Supervisors will hold a public hearing July 14 on the proposal to move ahead with the bypass, instead of widening Route 28. 
Ric Canizales, the county's transportation director, told InsideNoVa the bypass option could affect 70 homes; half or more of those houses would need to be purchased completely, while the other homeowners would see partial impacts. 
County staff endorsed the bypass route because a different proposed route would have affected up to 112 homes, an apartment complex and a trailer park, Canizales said.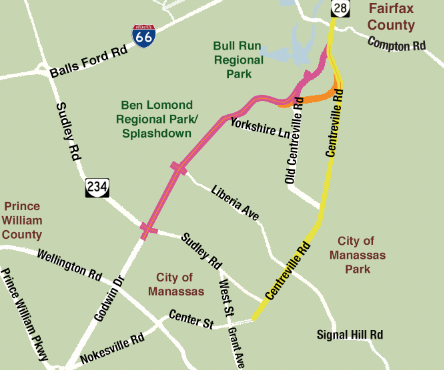 Widening Route 28 would affect 90 properties that include 154 businesses, Canizales said. The cost to buy rights-of-way from those businesses make the widening option too expensive. "Widening 28 has become a non-option." 
Jones and her husband have lived in their home more than three decades. 
"I have no mortgage and I'm in my 70s.  I cried all weekend," she said after learning her house could be needed to build a road. 
Jones said she's been looking at another home in the area because she wants to be near her grandchildren. She wonders whether the county's fair-market value offer — whatever that may be — will be enough for her to find a new home nearby. 
Another homeowner who would be affected, Carol Blaser, has been advocating against the Route 28 bypass extension because of the need to use eminent domain. She owns a house with her two brothers. 
"Our parents paid off the house and left it to us," she said. "We're back to a nervous wreck. We cry. It's something our parents left us, to see it destroyed."
County voters approved a road bond referendum in November that included $200 million for either a bypass or widening Route 28. The board of supervisors will vote in July whether to authorize spending the first $89 million for the project.
The county won't know exactly which homes will be purchased until 2023, after design work is completed, Canizales said. Construction is estimated to take two to three years, meaning the road won't open until at least 2027.
The county will conduct independent appraisals of properties once staff knows which properties will be affected, Canizales said. The appraiser's estimated value of the home will be sent to the homeowners. 
Under the eminent domain process, homeowners who disagree with the county's proposed fair-market value can challenge the value in court. 
"It's a very individualized process where we negotiate with property owners and make sure at the end of the day everyone is happy," Canizales said. "It is very rare that we end up in court, especially for a residential case."