The Virginia Department of Transportation is recommending nearly $1.7 billion in road improvements and up to $444 million in other projects to provide relief to travelers on Interstate 95, particularly supporting those drivers stuck in traffic jams in Northern Virginia.
Public meetings will be held in Fredericksburg on Monday and Lorton on Tuesday to present the interim I-95 Corridor Improvement Plan that analyzed traffic issues and congestion relief options from North Carolina to the Woodrow Wilson Bridge.
VDOT will develop a similar study on needs in the Interstate 64 corridor this summer before offering a final version of the I-95 plan to the Commonwealth Transportation Board.
In the interim plan, study authors give a list of up to $1.69 billion in I-95 road improvements that should be given priority as the state makes funding decisions.
There are 11 projects in Northern Virginia that would cost up to $748 million, including a new shoulder lane between U.S. 17 near Fredericksburg and the Occoquan River that would be open southbound in the morning and northbound in the evening. There is also a proposal for a new flyover from northbound I-95 to northbound Fairfax County Parkway.
The findings include an additional $376 million in multimodal projects that include expanded commuter bus and train access, more park-and-ride lots and enhancements and rewards for ridesharing.
VDOT notes the price tag for these multimodal ideas is far less than the $12.5 billion cost of building a new main travel lane in Fredericksburg and Northern Virginia.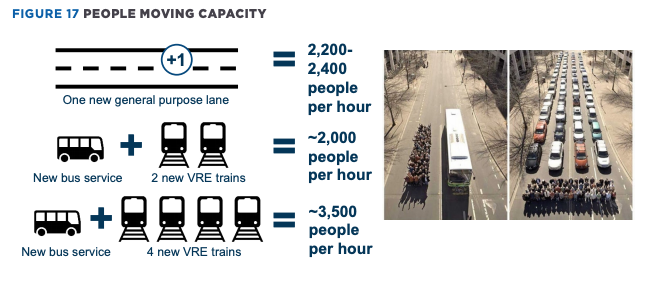 The study authors identified an additional $68 million in possible operational improvements, including:
"ramp metering" that would stagger vehicles at 14 key entrances in Northern Virginia (potentially cutting travel times by 7%)

variable speed limits on segments of the interstate through Richmond and Fredericksburg (potentially cutting crashes by 30%)

new alert systems for drivers regarding congestion and work zone delays, as well as real-time information that would promote park-and-ride commuting.
That also includes expanded use of cameras, message signs, service patrols and towing programs that have been successful in targeted areas in the past. 
And the findings include up to $15 million in improvements to detour routes like U.S. 1.
The study's findings also point to improvements that have already been announced.
Over the next five years, the state is spending more than $1 billion on roadwork in the I-95 corridor, including a new auxiliary lane running southbound from Occoquan to Prince William Parkway, a I-95 Express Lanes extension south to U.S. 17 and new lanes across the Rappahannock River to relieve congestion around Fredericksburg.
In December, Gov. Ralph Northam announced $3 billion in improvements for rail traffic along I-95 that is expected to provide new opportunities for Virginia Railway Express commuter trains. The VDOT study notes that the rail expansion program is expected to remove 5 million cars and one million trucks off of Virginia's highways each year.
In the plan, VDOT suggested dozens of additional improvements that might provide traffic relief, but would require more analysis. That includes several interchange improvements from Joplin Road to South Van Dorn Street, two-way Express Lane access, a shoulder lane for rush-hour traffic in Alexandria, and more park-and-ride lots in Prince William County. 
NEXT WEEK'S MEETINGS
6-8 p.m. Jan. 27 at the Fredericksburg District Auditorium, 87 Deacon Road, Fredericksburg.
6-8 p.m. Jan. 28 at South County Middle School, 8700 Laurel Crest Drive, Lorton.
There will be a brief presentation which will be held in an open house format, according to VDOT. Attendees will be able to speak one-on-one with study team members. Questions or comments can also be submitted via email to VA95corridorplan@vdot.virginia.gov.